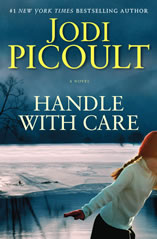 My book club read
A Change of Heart
in January. I thought it was ok, but I wasn't blown away by it's awesomeness. Two friends said that "Handle with Care" and "My Sister's Keeper" were two of Picoult's really good ones. "Handle with Care" was readily available at the library (the other book is a little more hard to find since the movie is out), so I decided to give it a try.
"Handle with Care" follows the story of the O'Keefe family and the decisions and struggles they face raising a daughter (Willow) who has brittle bone disease. After an especially harrowing experience, Willow's parents are presented with the idea of filing a wrongful birth lawsuit. Doing so would be a problem for a number of reasons, two of them being 1) Charlotte (the mother) would have to say that they would have chosen to abort Willow they had known of her illness and 2) the OB/GYN in the case is Charlotte's best friend.
It was bizarre. I was hooked from the beginning, totally invested and engrossed throughout the plot. Picoult explored issues from abortion to marriage to cutting to adoption to sibling dynamics to medical ethics to morality... great stuff! But then I was completely angered and let down by the end. Seriously. I was livid while the book was wrapping up.
I honestly can't remember being so engrossed and yet so let down by a book. One character in particular that bothered me throughout the book: Charlotte, Willow's mother. I can't decide if I like that, or if I don't. After all, it's good writing if the author gets me that invested, right? But I just don't understand her. I can't get behind her. And the repercussions and results of her actions are strongly to blame for my unhappiness at the end.
For Picoult aficionados, can I ask you a question? Do you think the final chapter is where Picoult gives her stance/opinion/leaning on the hot topic of her book? After reading both "A Change of Heart," and "Handle With Care," I'm tempted to think that's the case. It might be an interesting discussion question for a book club setting.
Before I go off on a tirade and give a gazillion spoilers, I'll leave this one be. But I can safely say that after the two Picoult reading experiences I've just had, I doubt I'll pick up another one of hers soon. I need a break. Silver lining: it's one more book for the library challenge. *grin*